5 Digital Trends that will impact the online market in 2016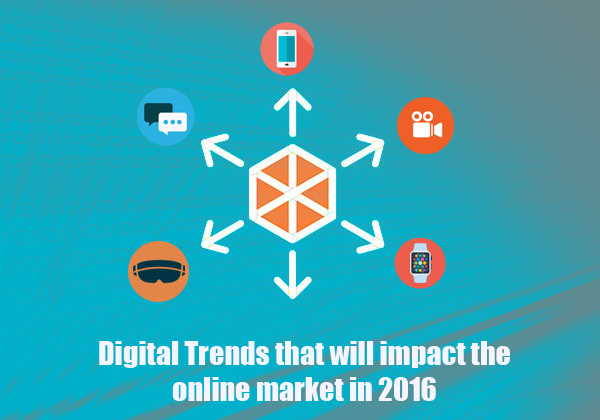 Every year everyone looks for new trends and try to understand the new marketing strategies to improve user experiences.  The World Is changing much faster than most people notice, changes in technology, market, customer demand and behaviours. To survive in today's online market one should look out for new strategies and techniques to lead their markets.
Here are the latest 5 Digital Trends that will impact the online market in 2016
Apps become most revolutionize method of reaching consumers:
Returning customer is a primary goal for any business, but it's not an easy task where choices are seemingly endless, offers and discounts changing every time.  Mobile apps can increase return on investment and brand loyalty to the company.  As per latest facts and predictions on apps, users spend 90 percent of mobile usage on apps, this year there will be more online marketing campaigns aimed at mobile users. Mobile ecommerce transactions will increase more in this year. Most of the companies develop their own app to stay ahead in the competition.
More Digital Advertising to reach customers:
With over 1.5 billion active users on Facebook, 900 million users on whatsApp, 400 million on Instagram and 320 million on twitter as brands look to target these platforms by using the Digital Advertising to reach the right audience. Companies looking to spend more than half of their budgets to reaching the right customer and are in look out for more conversion optimization and ROI.
Online Video is the future of Content Marketing:
 Video is taking content marketing by storm, one billion Internet users viewing over 100 million online videos every single day. Major platforms like Google and Facebook now offer video options for advertisers; Latest surveys suggest that 7 in 10 people view brands more positively after watching their video content. 64% of marketers predict video to rule their strategies. YouTube (owned by Google) sees more than a billion unique visitors every month, more than any other channel except Facebook. Video is one of the best options for social media campaigns.
The adoption of Wearable Technology:
Wearable Technology represents one of the major innovative technologies in the market. Consumer uptake of wearable's are expected to grow 35 percent per year between 2016 and 2019. Fitness and healthcare appliances have appeared as the front-runners in the adoption of wearable technology. According to IDTechEx, the market for wearable technology will reach $70bn in 2016, up from an already-impressive $20bn in 2015.
Ready for the virtual reality boom:
Google said more than 350,000 hours of YouTube videos had been watched in virtual reality, which introduces users to virtual realities and brings digital information to the physical world, a recent Goldman Sachs research report predicts that virtual reality may soon become bigger than TV, may soon become an $80 billion market. The VR industry is set to boom with companies like LG, Samsung and even View-Master making 3D viewers that support smart phones.
Conclusion:
Marketers face new challenges with new technologies, tools and with new platforms every year. Change can be simple or complicated, 2016 should be an exciting year for the digital revolution as it continues to change the game. Follow these trends for creating a strategy that will help you bring in more business.