Blend Digital with Offline Marketing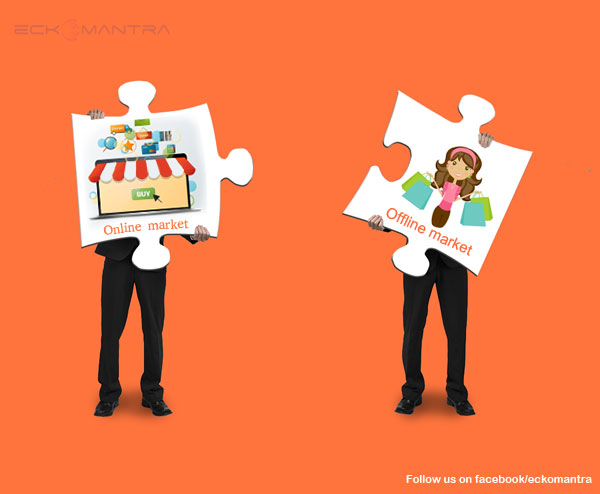 Integrating digital marketing  with offline marketing strategies will bring you more customers. With the advantage of the Internet, many companies have changed their marketing strategies. In the past, companies more depended on platforms like mailers, phone calls and direct marketing to promote or sale a product or service.
Nowadays, many companies realized that the internet is the powerful tool to communicate with the potential customers.  For adding this It will be more effective and profitable when we implement a combination of online and offline marketing.
Online marketing offers customers instant access to company Web sites and promotional information. Whereas offline market is physically present to attend every minor complaint of a customer.
Following of these techniques we can integrate online and offline marketing effectively:
Identify your unique story:

Identify your unique selling point (USP) which gives your business an edge over your competitors.
Tell Your Story online and publish offline
Once the USP is identified it's easier to ensure the best services package to customer through Your (Unique) value proposition.
Using Social Media:

Not only having the best product would get you customers every time but the best customer engagement does lead to increased sales
Companies must go out and actively engage their customers in order to sustain and improve their service levels to ensure customer delight.
One of the best ways to do that is by posting on Social Media like Facebook, Twitter etc.
Doing that you create an atmosphere that encourages engagement there by you can plan your activities to delight your customers more effectively.
Real life Events:

Real life events give online brands a chance to connect directly with customers.
Promoting the events online and offline create a buzz that reach furthers than the geographic locations of each party.
Don't forget to carry on all the discussion and fun online after the offline event is over.
Consumer behavior is no longer compartmentalized between online and offline activities
QR Codes:

Quick Response Codes (QR Codes) allows brands to send the viewer directly to a targeted site to learn more about the brand, or help in receiving an offer.
Brands can mention QR codes through print media or even outdoors which simplifies the process of bringing the customer to the desired location.
Every business needs short and visually-appealing video to get to their customers with the capabilities they have and what they can offer.
An online event can be filmed to create a splash on social media which takes it to more potential customers and the message is shared loud and clear.
Displaying these videos at offline marketing events can also drive more mileage.
Analyze the Campaign Regularly:

Campaigns and strategies should be continually tracked to adjust to change as it's vital to tune our services and delivery with the feedback we get from customers once they have experienced that.
Offline effectiveness may be more difficult to track than online, but data can be gathered via surveys and opinion polls
Few Brands that did Online and Offline Marketing Perfectly
All major offline marketers today are identifying the importance of online market.
In the same way online marketers also accepting the importance of offline presence.
Recently, Lenskart, an Online Indian eyewear brand opened up stores in various retail malls in the Metros.
Online travel company, MakeMyTrip has also rolled out a number of brick and mortar stores in a very short time.
Conclusion
Digital blending is not difficult to achieve as long as it is considered at every stage.
Brands which integrate well are the ones which spring to the consumer mind first, as well as appearing highly in Google searches.
Digital blending is an essential concept today to all businesses irrespective of industries they serve. Ultimately it's the primary goal of every business to get closer to their customers and no other best way to do is blending your digital marketing strategy.